Whitmore Lake, Michigan – 18th May 2020

We are excited to announce that we will be sponsoring the Bud Light Beer League 2020 which is already happening! This is a tournament series featuring the iconic fighting title SOULCALIBUR VI.
Bud Light will be teaming up with Twitch and Bandai Namco to bring competitors together from all across the United States to see who is the Bud Light Beer League Champion! The tour spans 9 weeks of competition with one final round robin for each region.
And what's more, there will be limited editions of the Bud Light x DXRacer chairs for giveaway during this league. Follow us on Twitter and pay attention to our latest posts!
For more information, please visit – https://smash.gg/league/bud-light-beer-league-2020/details.
Here's how the Bud Light x DXRacer Gaming chair looks like!
Here's the league schedule: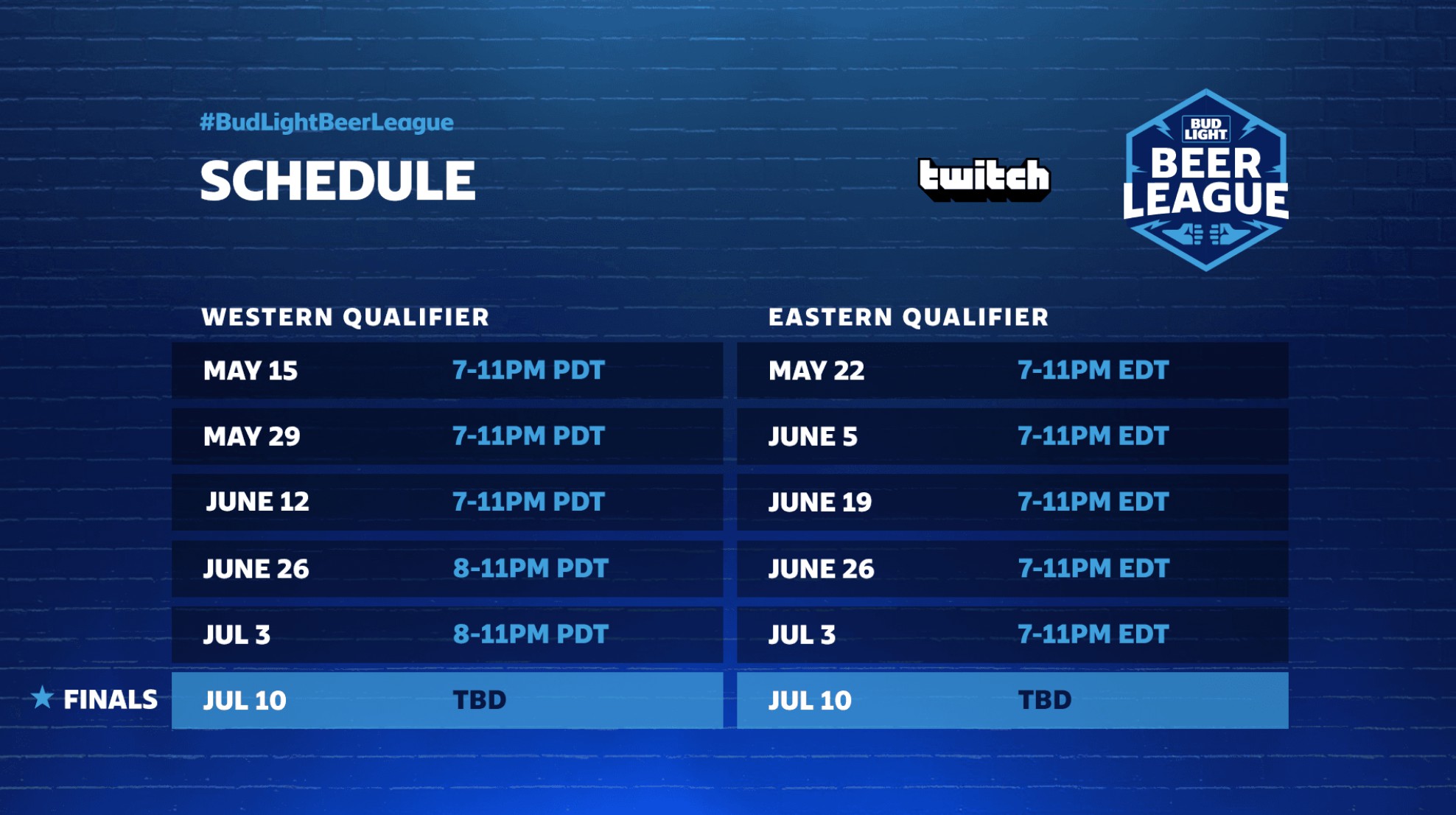 General Rules
A complete list of rules can be found here
https://drive.google.com/file/d/1YKaOhXNmDzIXBpK3OmdqyZRCl44kbFJN/view?usp=sharing
Tournament Brackets will be hosted on Smash.gg, all participants must be 21 years of age or older to compete. Tournaments will be Double Elimination Format Capped to 128 competitors per tournament Sign-ups open 12:01AM PT morning of each tournament day Sign-ups close 1 hour before tournament start WEST Region Events begin 7 PM PT / 10 PM ET EAST Region Events begin 4 PM PT / 7 PM ET Select matches will be played on main tournament stream. Participants are both allowed and encouraged to stream their gameplay on his or her individual channels.
Regions Participants may ONLY compete in one region, the first of which they sign up for.
WEST REGION
Alaska, Arizona, California, Colorado, Hawaii, Idaho, Kansas, Montana, Nebraska, Nevada, New Mexico, North Dakota, Oklahoma, Oregon, South Dakota, Texas, Utah, Washington, Wyoming
EAST REGION
Alabama, Arkansas, Connecticut, Delaware, District of Columbia, Florida, Georgia, Illinois, Indiana, Iowa, Kentucky, Louisiana, Maine, Maryland, Massachusetts, Michigan, Minnesota, Mississippi, Missouri, New Hampshire, New Jersey, New York, North Carolina, Ohio, Pennsylvania, Rhode Island, South Carolina, Tennessee, Vermont, Virginia, West Virginia, Wisconsin.
Supported Regions:
SOULCALIBUR VI West
SOULCALIBUR VI East
Players will earn points for 8 weeks (5 weeks each region).
The top four point earners will advance to the regional finals.
Final Bud Light Championships will be a top 4 round robin for each region.
Game Rules:
-Latest version of games will be used for tournament play, including new characters and balance changes.
-Winner must keep the same character while the loser can switch characters.
-In the event a match ends in a Double KO that match will not be scored and the players will replay the match with the same characters.
SOULCALIBUR VI
Game version: Steam PC
Game Settings: 3/5 Rounds, 60 seconds, 2/3 Games
Winner's Final, Loser's Final, Grand Finals 3/5
Random stage select
Create a soul characters, custom outfits, and Inferno are banned
Use of custom outfits and Item Moves are banned.
Use of custom mods are banned
Weekly Throwdown Prizing
1st – $500
2nd – $300
3rd – $200
Regional Finals Prizing
1st – $1250
2nd – $625
3rd – $375
4th – $250